So, some years ago I went to Stitches West, and I bought roving, as one does. It was purplish and a little sparkly and I spun it up into a skein of DK that I called Cloud City.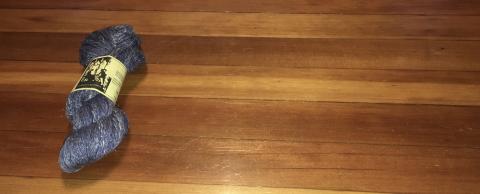 (That's made from Faerie Mountain Fibers Merino/Bling/Silk, for those interested in that sort of thing.)

And a couple of years after that, I went to Stitches West again, and again, some roving caught my eye, and I brought it home. Some weeks ago, I pulled it out of the stash and got to work. At some point while we were at the wheel together, the roving and I, it began to occur to me that the single on my bobbin looked somewhat familiar. Huh. Alright. So I named that one Bespin. (Very funny, right? I thought so.)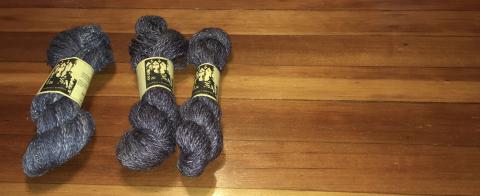 (The one of the right there is Carolina Homespun Silk Merino Sliver. Completely different, obviously.)
So last month when I went to Stitches West, I went with the intention of putting some fiber in my newly emptied spinning basket. I also went with some helpful notes to myself.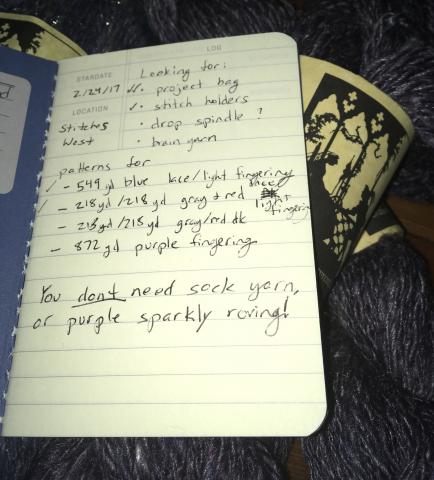 Good planning, don't you think? And I took the notebook with me and everything. Even read it while I was there. Twice.
You know what was at Stitches West this year? Yak. Yup, yak. And it was everywhere. Silky with an unearthly sheen and draped in tempting ropes all over the frakking convention center. Obviously I must spin yak. I spent a great deal of time going back and forth between the various booths. I carried several yaks around with me for a bit, and finally settled on the very best yak. It wasn't until I got it home that I realized...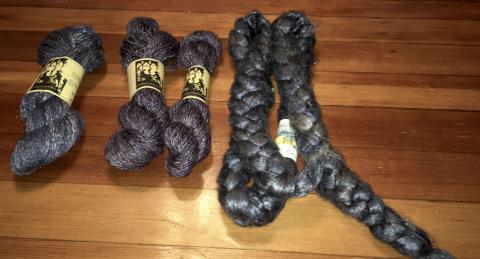 (Greenwood Fiberworks Hand Painted Roving, 50/50 Yak & Silk, and for the record, way more of a bluish-purple than a purply-blue.)
Ah well. So much for new galaxies. And the Anoat Sector doesn't have much left in the way of namesakes, so I'm thinking "Blue Bantha" for this one.
And of course that's not the only roving I bought at Stitches. I mean, the spinning basket was empty, right?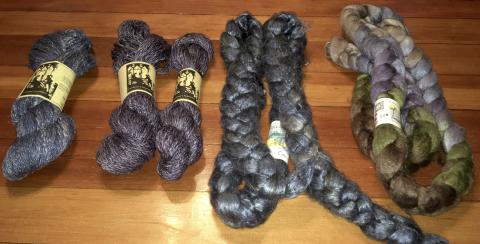 (Also Greenwood Fiberworks Hand Painted Roving, but this one is 50/50 Merino & Silk, so it's absolutely distinct from its stash-mate. 50% distinct anyway...)
And this one is completely different, because in addition to being purply-blue, look really close at the lower right there. It also has a little green in it. Accepting name suggestions now.